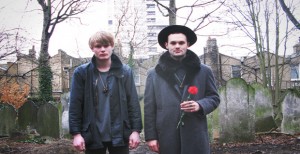 The third Northern Noise live event is almost upon us. This month we've got a blistering line up of bands who are sure to transport you from the gloom of fading winter into the summery festival season. To start things off, the astonishingly talented Billy Lockett will open the night, he'll be followed by Manchestwer's own Secret Pilot before our hotly tipped headliners Torches take to the stage. However, before we all head down to the Castle Hotel, Torches' band-members Charlie and Steph have compiled an extensive list of their favourite tracks to help get fans in the live music mood. Check out their Personal Playlist below. Enjoy!
The Fall – Kurious Oranj
C: An opera about William of Orange sung by Mark E Smith, what's not to love?
Fever Ray – If I Had A Heart
C: Deep, spooky and melancholic electronica from Karin Dreijer Andersson of The Knife. The claustrophobic organ loops sets the tone for the rest of a superb album.
Lee Dorsey - Give It Up
C: Put on your DM's and dance my friends.
Grimes – Oblivion
S: Got this on loop. Something about the dark Tron-esque synths layered with her playschool singing just works so well. Perfect night bus soundtrack.
Kindness – Gee Up
C: The best music video this year. Four minutes of postmodern awesome (the song's pretty funky too).
The Fall – Mountian Energy
C: One of my favourite of the many incarnations of The Fall. Never has repetition been more interesting than on this track (plus the fact that the band look totally indifferent to the massive festival crowd makes this video even better.)
Talking Heads – This Must Be the Place (Naive Melody)
C: Taken from 'Stop Making Sense' (the best live album/film EVER). David Byrne manages to make dancing with a floor lamp look like the coolest thing ever.
Nick Cave and The Bad Seeds – Stagger Lee
C: Franticly violent prohibition themed storytelling from the King of Gloom.
Fela Kuti - Zombie
C: I challenge anyone not to dance to this…
Peter Gabriel – Mercy Street
C: Haunting, subtle, melancholia from the best (ex) member of Genesis… I'm sorry Phil who?
Yes – Heart of The Sunrise
C: Ok we're gonna say it…BEST GUITAR RIFF EVER. (also these guys get major props for wearing capes and refusing to make songs less than 10 minutes long)
Red Army Choir – Song Of the Volga Boatmen
C: What they are doing with their voices is really pretty stunning. Spine tingling and ominous, for listening to when surveying the vast Russian steppes atop a white horse (or just walking round town, whatever's easier really).
The Walkmen – The Rat
C: Everything about this song makes my heart shoot through my chest, in the best way possible. The lyrics, Hamilton's pleading screech, the relentless guitar/organ and of course, that hi-hat-on-speed drum beat. If I could cover this song and do it justice, I would. Never do I run onto a dance-floor faster
Peggy Lee – Is That All There Is?
C: They do not make performers like this. Married and divorced 4 times, Peggy was still performing in her 70′s (sometime in a wheelchair). You just know she knows what she's singing about. DISCLAIMER – do not listen to this song if your feeling a bit gloomy…you have been warned
Echo & The Bunnymen – The Cutter
C: Not just another…YEAH. You got it.
LCD Soundsystem – All My Friends
C: The best song written about growing up and growing older.
S: Steve Reich's 'Piano Phase' for the dance generation.
Tom Vek – Someone Loves You
S: There isn't a Tom Vek song I don't like and this is no exception. Your life should instantly be in black and white/slow motion when listening to this. If it isn't, you've not got it loud enough.
Jagwar Ma – Come Save Me
S: This shall be returning to my playlist for summer where it can finally reach full effect somewhere between an ice cream float and emptying the sand from my shoes.
Be sure to 'Like' us on Facebook and Follow us on Twitter to keep up to date with all the latest Northern music news!
Intro words by Simon Bland.