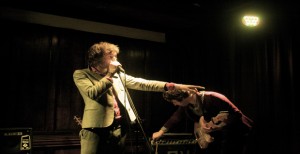 With the next Northern Noise Live event just two days away, here's a selection of images from last month's ferocious February event. Click the images below to kick-start a gallery of all the best moments from the night, including Low Duo and their shades-wearing piggy bank, a taste of Towns' blistering set and City Reign crammed onto the tiny Castle Hotel stage. There's even a few pics of some very special Northern Noise cakes thrown in there too. Keep checking back here in the next few weeks for a gallery of Saturday's gig featuring Torches, Secret Pilot and Billy Lockett. In the meantime however, enjoy the best of February!
Buy tickets to our March Northern Noise Live show right here. 
Be sure to 'Like' us on Facebook and follow us on Twitter to keep up to date on all the latest Northern music news!
Words by Simon Bland. 
Photography by Anna Kröger and Simon Bland.