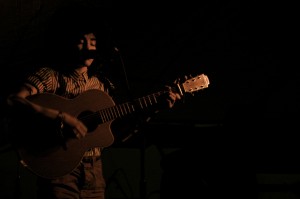 Karima Francis has returned from the brink.  After exploding onto the scene back in 2009 following an exceptional performance at Manchester's In The City festival, she was quickly snatched up by Kitchenware records.  Before she knew it her future had begun to take shape.  Francis plunged into the deep end: appearing on Later with Jools Holland, scheduling a relentless tour all while a multitude of music press were tipping her as 'the next big thing'.
Then she disappeared.
What followed was a period of healing and introspection as the 24 year old singer-songwriter took refuge in her native Blackpool.  However it wasn't long before her she felt the call of her guitar once again. Cut to 2011 and Francis is back, new and improved. We sat down with this seaside singer before her Friends of Mine fest set to discuss her new album, working with mega-producer The Flood and the pressures of returning to the stage.
So you were at Liverpool Sound City last night, how was that?
KF: It was really good. There was a really good atmosphere in Liverpool.  My venue was Leaf, it was a little bit of a strange one because it wasn't very busy but then we got a really nice crowd, but yeah it was a nice atmosphere over there, I liked it.
Have you played a lot festivals?
KF: Not this year, these are my first ones.  I've played a couple of festivals over in Holland so far but I think I've got a few more to come through this summer. Probably festival year, for me, will be next year.
Did you change your set to cater for the Sound City crowd?
KF: Yeah I did actually because at first because we thought it would be a really loud gig we wrote an uplifting set but it turned out that the venue was quite, it was more intimate, so we did change the set around.  And for tonight as well we're probably going to have to put a few 'up' ones in because it's pretty busy isn't it.
You've often been tipped as the next big thing, does that add a lot of pressure?
KF: Yeah well things started going really good for me and I've had to take a year, well, two years out now you know, and I've had to get myself back to this point.  I've written my second record and I've just come to the end of recording with a guy called The Flood in London and it's sounding amazing and I'm lucky to get the opportunity to do it all again because anyone else would be dropped and forgotten about.  I've took time out but I've worked myself back to this point again so hopefully I'm going to go at it again. Try to get back the momentum that I once had.  It's kind of like starting from the bottom again but with new songs.
How does that feel?
KF: I feel like there's more of a fight because I really think I have to work to get back to where I left off,
You were signed at In The City…
KF: I was signed after In The City yeah, but it took a long time because I prefer to meet a lot of labels and stuff and…you have to find the right people you know, and the thing is I've got good management so they really helped me find the right people and stuck by me the whole time. Part of the reason why I went with an independent over a major,
How did getting signed change things, obviously it's a big deal…
KF: Yeah it is but I think it depends what kind of person you are, it really does, and it depends on how grounded you are with the people that surround you.  Obviously you can change if you let the high-life get to you and you start living it and you move to London…not saying I'm going to move to London or anything like that.  It just changes different people and I think it does have an effect but as soon as you get signed you see yourself as a proper songwriter.  So the pressure's on then because people are waiting for your next song and it feels like you have to live up to the last one but I've kind of got to that place now where I write and even if it's not as good I just keep writing through it and writing through it…
You've had a turbulent year; do you feel that's all behind you now?
KF: Yeah, it's all behind me in my head, I can't change the past but I still live with all the shit that goes on every day but I want a career in music. It's not that I'm fighting to be famous, it's not like that, I want to do it for the rest of my life because it's the only thing I know how to do, It's the only thing that I live for. It's got harder because when you feel like you're out of the loop it's like coming into a new world.
Are things a lot different now that you're signed?
KF: Yeah I think so.  But I think I just have to be myself, that's all I can do. I'm not going to try and change who I am to get where I want to be.  It's hard because I struggle with self belief but it's the audience and the crowd that make me go on.
You've been recording your new album at Assault & Battery studios in London.  How's it going?
KF: Amazing.  We were going to do a live album first, like a live EP and then we did it and we all sat around and thought about it and thought actually we're coming back after all this time we might as well do it properly with a proper album.  So we've literally been doing rehearsals for the last couple of months with a drummer and my guitarist and we've gone in and in just over two weeks we've put this album down and it's blowing my mind.  It's just this music that I want to hear when I put on the radio – and I'm not saying that to big myself up it's not like that – I'm so passionate about it because it's true to who I am as an artist and it's music that I've always wanted to make all my life.  With the first record I was so unsure as to what direction to take…
You've been working with Marc Ellis AKA The Flood, how did that come about?
Karima: Well, he'd heard of me and he was interested so I went down to meet him at his studio and I played him some demos and some stuff that I had recorded in America.  I think he liked it but I don't think he was blown away at first because I don't think he got what he wanted to get from me, so I just went "wait a minute, can I just play for you live?" and he said yeah so I got my guitar out and played for him and he went "lets do this, I completely get it.  Why has no one ever got you in a room, stood you up and recorded you live"?
Do you like being in the studio?
KF: I prefer gigging obviously but making this record over the last few weeks has been one of the best experiences because I'm watching something happen before my eyes…
The Flood has worked with Depeche Mode and Nick Cave…
KF: Yeah! And he's done all like U2 and Smashing Pumpkins and he's done most of the PJ Harvey records and he's just done a Glasvegas record.  He's just done the last PJ Harvey record that's done really well and it is a brilliant record.  He just makes music that's true to who the artist is, he makes you feel comfortable enough to express.  He's a wonderful guy, he's becoming like a best friend…
So what can we expect from your new material?

KF: It's soulful.  It's from my heart, it's truthful music that's all I can say…there's choruses there and melody. It's still quite acoustic and it's got its quiet moments and it's got its big moments. I'm really excited.
Has the time you took out influenced your writing a lot?
KF: Yeah it's actually been so hard to get back to this place, my confidence has been completely blown – I'm unsure of how I've got back here and I know I want to keep going forward but I'm so scared at the same time and I didn't have that fear at first.  I didn't feel like anything could knock me down but sometimes I feel just in fear of everything now.  But I think that's good, it makes you work harder.
You've been compared to Tracy Chapman and Alanis Morissette. What do you think of that?
KF: I just think to be compared to some of the greatest female singer-songwriters is not a bad thing (laughs). It's not like I'm being compared to someone who's really average is it, it's flattering, I'm flattered…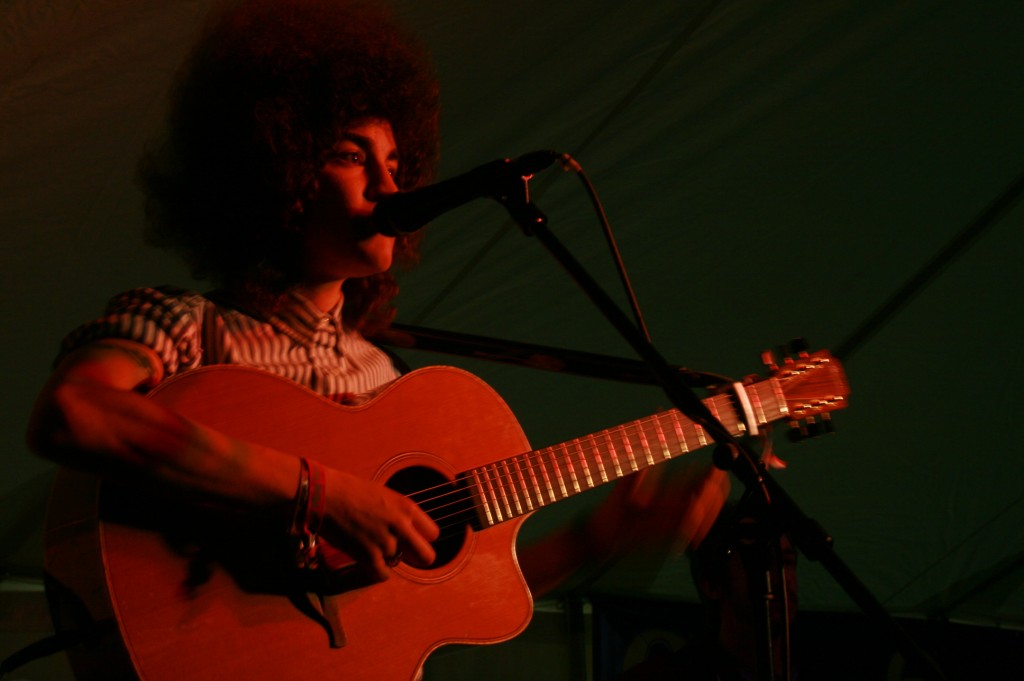 What are your main influences?
KF: My own personal life, my upbringing and just growing up with my mum at home.  Life is the influence. I mean I get a lot of influences from music but nothing that I take on and try and copy.
What about influences for the new album?
KF: I have a new love and new thing that happened…she's over there!
Do you do a lot to take care of your voice, drink a lot of tea maybe?
KF: I've tried to cut out tea over the past few days because it's been getting really dry and I think it's all the caffeine that's been doing it…
Speaking of your voice, When did you discover you could sing?

KF: I don't know, I didn't know I could do it at all.  I felt like I had to because when I was in bands drumming I use to always hear melodies and I use to go "you should do this, it'll make the song so much better!" and I just thought fuck it and I left Blackpool for Manchester, sold my kit to get a guitar and it was like my only escape.
Was the move to Manchester important?
KF: Yeah because when you're in the city you really have to fight to be in it, everyone's really good and with it and up to speed and things.
You run a band night in your hometown of Blackpool…
KF: Yeah I do it, obviously, because I'm based there and just for something to do for local people as well.  I love to hear the music people are doing in the local bars.
Do you enjoy being on tour?
KF: I love it.  I hate the fact that I haven't been touring it's the worst thing.  I've just found out I've got a 27-date tour coming up this year. I love it, it's the best thing in the world.
Do you have any favourite tracks to play live?
KF: Yeah, new ones that I'm going to play tonight called Stay and Forgiven.
What do you have planned for 2011?
KF: Touring the album out there and to hopefuly make a lot of success off it, that's my plan. I want to be playing gigs every night all over the world, that's what I want to do for the rest of my life, I really do.
Find all the latest Karima Francis news, including details of her recently announced UK tour, right here.
Words and photography by Simon Bland.