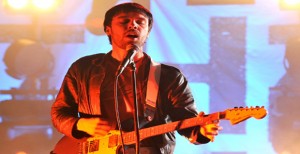 One of the best acts at this year's Friends Of Mine festival had to be Saturday's headliners, The Cribs, who followed Buzzcocks on a bill which provided raw-punk power for both young and old alike. The Wakefield trio, who were once dubbed 'the biggest cult band in the UK,' by Q Magazine, are back on the road after a nine month break. We were lucky enough to catch the band soundchecking early on the Saturday morning and managed to interview Ryan Jarman later that evening. He talks to us about being back on the road, Johnny Marr's departure, and the direction of new material…
How influential have The Buzzcocks, been to The Cribs?
Ryan Jarman: We always really liked them that's for sure. We've always been big fans of the Buzzcocks. I honestly think they're one of the best bands from that era. I'm always loathed to talk about influences though because I've no idea what influences me but I think that their pop sensibility is one of the things I like most about them.
There's a real Punk feel to this festival which you guys should fit in with perfectly.
RJ: I'm really looking forward to playing. We saw the line-up of the festival and the Buzzcocks were on before us and that was one of the reasons I was like, let's do it.  It was a real selling point for me. We haven't played a festival in quite a long time. We've only just started gigging after 9 months off, which was supposed to be a lot longer than nine months off but we're starting to get out there again and play our first festival in quite a long time.
What was the reason you didn't take the full amount of time off?
RJ: We just started writing and that kind of supersedes everything. We've done four albums in a row so we've been on tour for almost eight years non-stop since we first started so we decided we absolutely needed some time off because we felt burned-out, but then we started writing and then obviously we parted ways with Johnny (Marr) in the meantime and something about that just kicked us back into gear. You just can't control when you're going to get the urge to start playing I suppose.
It's good that you're always being creative while you have time off.
RJ: It's kind of all I do. The only time I'm happy is when I'm writing songs. When I'm not on tour I become very reclusive and just stay at home. I don't really see anyone, don't do anything, so in some ways I would have no social life. I would have no life if I wasn't on tour.
What was it about Johnny Marr leaving that did, as you say, spark you into action?
RJ: Well you don't know where inspiration comes from really but things that are significant like that definitely change your mind-set. We had to get together again and spend some time with each other, because we knew it was going to happen and we had actually been writing separately anyway, so it seemed likely to happen but I think when something like that happens the band all of a sudden feels very unified again and it's us three against everyone else now so something about that gets you motivated.
I'm right in thinking it wasn't an acrimonious split at all?
RJ: Not at all. We were absolutely very tight because we wouldn't have let him in the band otherwise because with us three being brothers it takes someone that you have a special connection with to actually even think about expanding the line-up. It's absolutely amicable. He wanted to do another album and we were burned-out so Johnny was writing on his own and then I went over to see my brother who lives in Portland in Oregan and we started writing so we just ended up writing separately. It sounds like a very hippy-ish thing to say but you've just got to go where the music takes you and it was taking us in different directions. I miss having Johnny around, he was, and still is a good friend.
What was he like to have in the dressing-room?
RJ: He really did fit in with us, he's very friendly and a smart guy. I really will miss having him around.
Now that he's gone what sound is the band taking? Are you going back to the raw power of the first three records?
RJ: There's definitely an element of that. I think that we've written a couple of songs that sound very pop-y but some is more stripped-back and heavy. I find it very difficult to describe the songs that we're writing but something about it feels like the early stuff.  Something about the approach reminds me of before. It's more based on feeling rather than sitting down and dissecting songs. The songs are just coming out of getting together and plugging in and playing again, but that said it's still an advancement on all the rest, if it wasn't then we would never put it out. So it's an advancement but in some ways it feels like a return to the 'classic' Cribs stuff I suppose.
Any of the new material being played today?
RJ: We will do one new song, and it will be released. It's already finished and recorded but when and where it will come out I just don't know. We've written a lot of songs for the album so it's a case of seing which ones we're going to put on.
What's your favourite Cribs album?
RJ: The first one I think. I've always thought of it as being the most straight forward. It's weird because I look back on how we wrote it and we'd grown up in Wakefield, we hadn't even left the area. I hadn't even been to London. I left to go to Chicago once on a whim for a while but we'd never left there and we all worked there in a factory. I look back and, you know, we were just a bunch of weirdos with a record deal. I don't know how that happened but that's part of the reason why I like the record.
You listen to it and it's so naïve and then you listen to the second record and all of a sudden we're so angsty and annoyed. It's because we've been to London and realised that the music industry was not everything that you were hoping it to be. You can definitely chart that progression. I like all our records, and that's certainly not meant to be egotistical at all but we wouldn't put em out if we didn't like them.
With New Fellas you dissected the indie scene and imploded it. Now it doesn't really exist to the same extent.
RJ: It was funny.  There's such a great irony. I remember at the time we had songs like Hey Scenesters! and everyone's singing it. There was such irony to it but it was an interesting time that particular era. I think it was just before guitar bands all of a sudden became very chart orientated and at first it did feel like there was a DIY attitude to it, and that's why it appealed to me because we'd always come from a really small scene. We were on Squirrel Records at first which was a noise label, but also we would have all this really out dated recording gear that we would use to record for various indie labels so we were very much about the DIY scene. But then all of a sudden guitar bands, especially when you get to 2007, everyone's chart orientated and so unbelievably mainstream that it became a little bit cringe-worthy to be honest. What was the question? I'm just going off on one
Now the guitar scene is dying down a bit do you worry about being marginalised again and needing to have that fighting spirit again?
RJ: Perhaps but its just strange. I think because of where we came from and the fact that we're all brothers who are so insular, and we never aligned us selves to anyone else, I always feel that we've existed regardless of what the trends are and that's really good.
We didn't become the biggest band when it was a trend but as a result we haven't got any smaller, we've continued to get bigger all the time and that's interesting because I haven't seen it happen to many of the other bands that we were playing with at the time.
I don't consider what the trends are because I think if you are part of a trend or you try to move and shift with a trend, I think that's when you begin to look back and feel embarrassed about certain eras of the band. Guitar music isn't as popular as it was. I think people are sick of bands trying to be rock'n'roll so now they want something as meek as possible, that happened in the '90s, people got sick of all the brit-pop stuff which I never liked anyway, but there was a reaction to that where people got into the new-acoustic movement and I see the same thing happening again.
Now we're in this almost yuppiefied period that we're in now. It seems very bourgeois and it is quite homogenised. I don't know. I always feel like we have a reputation for being nay-sayers or for being real nihilists about stuff so I try to stop having a commentary on current music trends because I just want to concentrate on doing my own thing. I don't care what is en vogue.
I guess if you look back at various different decades and the fashion from those everyone has  a cringe worthy moment.
RJ: Yeah they do. But look at me I'm wearing a white belt!
Interviewed by Simon Butcher
Photography: Shirlaine Forrest (www.shirlainephotos.co.uk)