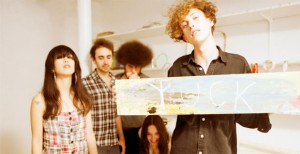 Part American, part British band Yuck will be hitting the Lake Stage later tonight…well if the weather lets them that is.  Leading the way in the so-called shoegaze music scene, the band released their brilliant self titled debut earlier this year – a Northern Noise fave.
This is the second first album bandmates Max Bloom and Daniel Blumberg have promoted in their brief musical career having plugged first band Cajun Dance Party in between their A-Level studies.   After enlisting the help of drummer Jonny Rogoff and bassist Mariko Doi Yuck quickly attracted a cult following thanks to their breezy vocals, hazy guitars and fuzz rock love songs.
Get Away and The Wall highlight the band's wistful, post-grunge style that's earned them so much praise two tracks that really come to life on stage.  Meanwhile Suicide Policeman and Rose Gives A Lilly allow the band to win you over at their own pace and once they have, they'll knock you out with the likes of distorted rock tracks Operation and Georgia.
Having toured with the awesome Smith Westerns, Fanzine and Tame Impala the band return to the UK for a run of early summer shows.  One of which will be tonight…hopefully.